20 Feb

Social Media: 4 Ways to Schedule your Posts

Social Media is pretty time consuming, but thankfully for technology and the constant development of new apps, we can schedule posts – which are ideal so we can set aside specific time slots in the date for scheduling and updates on the editorial calendar.

Here are a few Free tools for various channels on how to work efficiency and effectively. I recently discovered a new tool that allows you to do so with Instagram photos too – a little ironic since it's suppose to be "instant" and in the moment. However, the only way to best reach your audience is to post across timezones to make sure you're targeting all your different fans across the globe.
1. Twitter: I have been using HootSuite for years and it's always reliable. It also syncs to different platforms, I use it primarily to schedule my tweets and Linkedin updates. The only disadvantage here is that if you insert a photo to scheduled tweet, it turns up as a double link (the link you want to share and the photo turns up as a link too) With Twitter's new platform that encourages direct photo sharing and is more enticing as a click bait, you might be missing some opportunities, so my advice is to continue to tweet, but schedule old content to post via hootsuite too, a mix and match.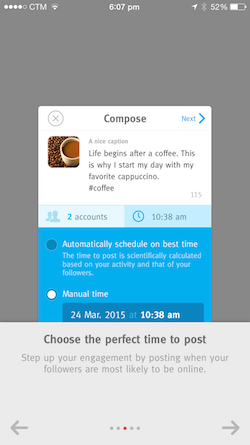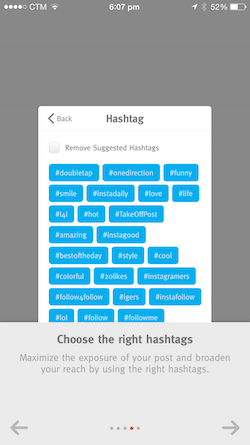 2. Takeoff for instagram is a relatively new tool and I'm just testing this out – looks promising. They suggest hashtags as well as allow you to manage multiple accounts for those of you who have to switch between your personal account and the business account.  You might want to have a read: How I got featured on Instagram and grew my fans I attribute partly to the strategy of posting and hitting the key timezones where people across the globe are online. Read for some tips on good Instagram etiquette.
*UPDATES: scheduled posts don't go, but the only helpful feature is it helps you to determine the most optimum time to post based on your followers base, so I'm afraid you'd still have to do it manually (in my case) but it's insightful to see your optimum posting hours.
3. Weibo – there are plenty of apps as they continue to develop really quickly. Formerly,  Pi pi time machine 皮皮时光机 is reliable, but it shows at the bottom of the post that it was generated by the app – some brands make do with it, some don't like it. Weibo has since came up with their own scheduling tool – but it hasn't proven to be 100% reliable, with some scheduled posts never showing or delayed. This happens sometimes with Facebook too, but not very often.
4. Facebook scheduling and Geo-targetting. I find scheduling very reliable and clients who geo target in specific languages posting at peak hours have seen great results. It is a tool less often used, but for certain brands and target markets could be very useful as a direct marketing tool.  Once you click on the cross hair symbol, you'll get this drop down and have options to choose from to target your messaging.