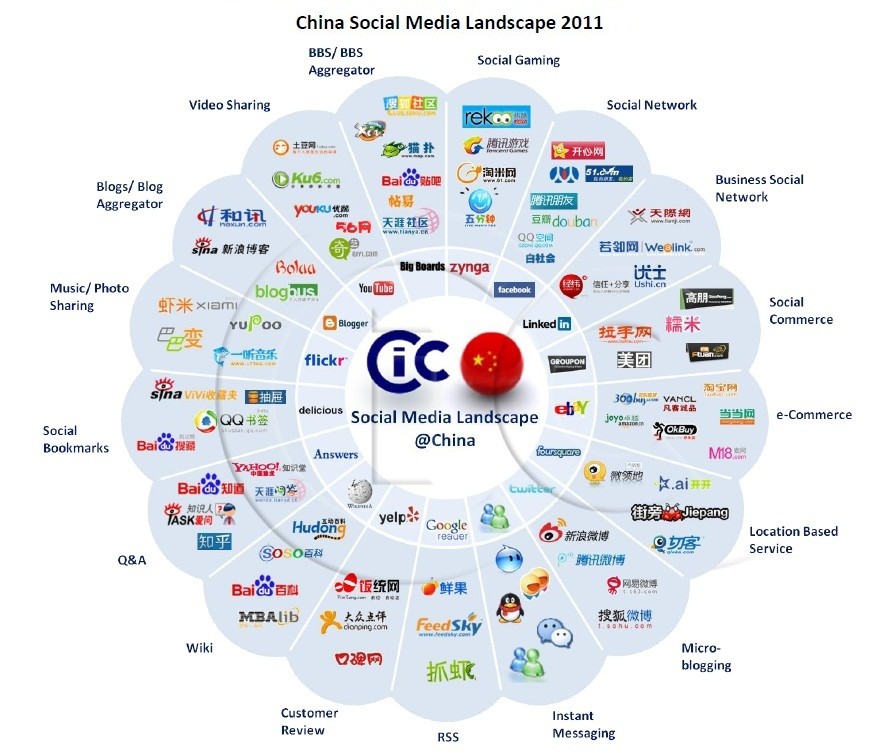 27 Jan

Navigating Social Media in China

A post I wrote on Navigating the Chinese Social Media Landscape and all about the Chinese channels that mirror the English ones as they are blocked in China.

Not enough has been shared about Chinese social media channels and even then, some are misleading and I personally find not quite helpful in terms of helping big corporations understand the game and what the marketing potential and critical mass of the Chinese can do for their products.

Mirrored platforms for the English social media channels

At the World Social Media Forum in Sep 2011 held in Singapore, there was little mention about weibo 微博, Sina's microblogging platform (www.weibo.com) that has huge marketing potential. One of the world's largest markets still remains exclusive and somewhat mysterious largely because of the language and cultural barriers. Additionally, one needs to navigate the censorship-heavy media landscape sensitively and strategically as the rules of the game changes in real time according the events happening in the country. Most recently, the riots in Guangzhou has caused restrictions in posts with words/vocab that hint opposition or violence are blocked.

Kidnapped children have been found and returned to their parents via weibo and real time netizen updates keeps one in the loop of popular culture.

This introductory post is just a tip of the iceberg to introduce social media in China and the mirror platforms that I use frequently for Swire Hotels as well as some recent statistics that might be useful. The marketing team of Sina Weibo also kindly shared their marketing tools slide on how brands make full use of the micro blogging platform to launch and track campaigns in the Greater China markets.

We all know doing business in China is about relationships, or guanxi 关系, so entering the market with the right foot requires time, commitment and knowing the right friendly local folks who will help you out, whether is to make the phonecalls to the right person or organizing dinner with the connected person.

A recent discussion on Linkedin listed the top 5 best key opinion leaders on weibo, it is misleading and I have to disagree with this because the startling numbers of 12-15 million followers for these celebrities don't make them the right influencers for all brands like the article's subhead claims "top 5 best profiles on Sina Weibo for your Key Opinion Leaders to help you to penetrate the China Market with the social media marketing". It's like asking Dunhill to put Snoop Dog in a suit and tweet given sheer fan numbers. Marketing to a Chinese audience follows the same vein. You get the drift.

For a high-end fashion brand, it's logical to garner the support of the editor in chief of Vogue China, Angelica who may only have 300,000+ followers, but her influence on consumer decisions is huge. I think Nike did a brilliant job with their China market penetration by updating their wallpaper with Li Na's victory in real time when she won the championship. National pride + sporting spirit + a women's sportswear label. Win-win. great social media strategy on their part.

I wouldn't rule out the possibility that China would have its own intranet someday, with critical online mass, their own mirror social media platforms and the power of the great firewall, that would definitely be possible. If you're in China, a good and reliable VPN is Astrill, the other proxy networks, well needs a VPN for you to land on the site to purchase one. The irony.

Some other stats and trivia at the recent weibo seminar.
Weibo HKG has hit 2million users recently, with over 1000 corporate accounts (the blue V) and over 600,000 monthly unique vistors
has a KPI of 91%
Sucessful brand case studies on weibo include Johnny Walker, Intel, Olay feat Maggie cheung that generated significant number of forwards
ICBC has 159 accounts altogether managed by a team of 40. Weibo had advised against so many accounts given that content doesn't differ much, but they have managed to push relevant content geographically for all their branches.
Just yesterday, the first day of Chinese New Year, a new record of 32312 tweets/messages were sent in 1 sec at stroke of midnight CNY on Weibo.