15 Aug

Brands jump on Singapore's first Olympic Gold in History #schooling

It's been a couple of days, but the hot topic continues to hog the social media space. So much feels, so proud. And quite a few very clever and opportunistic creatives that brands spun out, including Changi airport's quick reaction to the win. This included a water canon salute when he arrived back in Singapore this morning.

But also an SQ hiccup on photo opportunities.. here

Marketing Interactive pulls out the best examples here, from Changi Airport to Netflix Singapore, lots of fun examples there. I used to work on MINI campaigns in China, so this was a really fun example.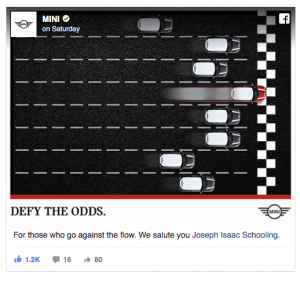 Relevant and timely posts makes for social media wins and sporting events are one of the best opportunities for brands to shine. Apart from global viewership in the billions, heartfelt messaging and congratulatory messages more often than not goes viral.
Here's an unfortunate post of SMRT trying to follow in the footsteps of Changi Airport. They definitely needed a copy editor. Oh dear.
Years ago, Nike did a great job on Weibo in 2011 (before Wechat became the new normal) when Li Na won the grand slam at the French open, updating their social media presence with patriotic congratulatory messages as one of the main sponsors of Li Na.
For some giggles, check out these opportunistic moments gone awry compiled by Singapore's Mr Brown that he calls the "bandwagon list of shame". Not classy… and the latest Macdonald's giving away free nuggets to celebrate… zero relevance in context!