Eating Out: Jade Dragon Macau
One of the City of Dream's new fine dining establishments, Jade Dragon is truly a restaurant to take guests you want to impress. The interiors are stunning – tall traditional Chinese medicinal cabinets decorated with ornate Chinese art pieces. The food and service – impeccable. We couldn't find a single fault. We were given a private dining room with a view of the kitchen.
Our dining party has collectively been to many fine dining Chinese restaurants in China, and few come close. Beijing's 天地一家 (Tiandiyijia) offers imperial dining and Hong Kong's 3 michelin star Lung King Heen probably fall into the same league.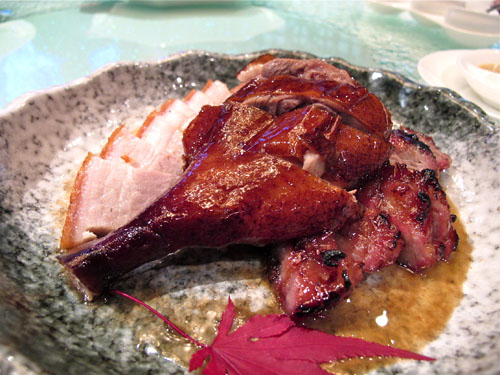 Having said that, coming from a Cantonese household where roasts are di riguer at family gatherings, all festive occasions and sometimes for the sake of indulgence, I've been eating roasts my entire life time. And Jade Dragon does, I dare say the best roast goose I've had. Lychee wood smoked subtle flavours, the grease long dripped off the bird, skin crispy yet soft and the meat so tender. The four of us couldn't resist and ordered two portions of it, one with charsiu BBQ pork 叉烧 and the other with roast pork 烧肉.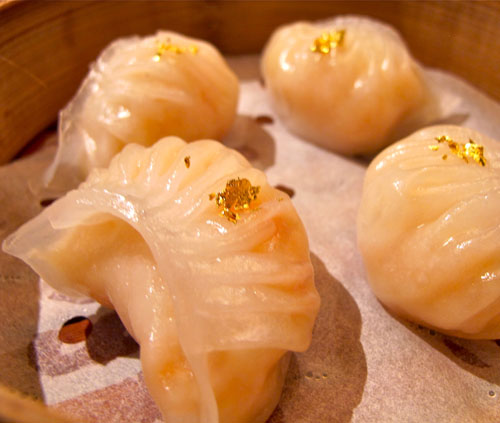 The dimsum menu while modest, does every dish perfectly. They keep the menu to the usual suspects, xiaolongbao, each served individually on a bamboo seat. Hargau shrimp dumplings decorated with a dab of gold foil for that extra luxe, cheong fun (rice flour rolls) and an interesting twist to the lormaigai, the traditional glutinous rice chicken dish is panfried coated with a layer of egg. While interesting and very contemporary, I prefer the old fashioned way of it wrapped in lotus leaves – that way it still retains the lotus fragrance.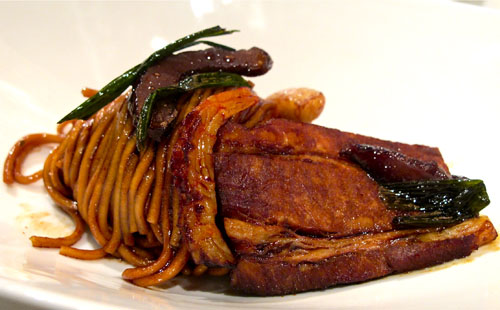 We ordered the iberico pork noodles – a plate of lardy goodness but felt the bits of lard could have been deep fried till crispy 猪油, leaving less of a trail of grease – lard done Singaporean style to garnish noodles. Nonetheless, it was packed with flavours, noodles springy and delish.
They excel in desserts here, accompanied by the whole theatre of it. Petit fours – from durian macaroons to madeleines and egg tarts, a wonderful list of teas to start and finish, pairings are done upon request. I highly recommend the almond milk creme brûlée that comes with bird's nest and red date at the top – giving it an added layer of textures, or as we say in Chinese 口感 which literally translates to "mouth feel".

The imperial/Cantonese dining experience comes with the price tag, I would love to be able to justify dining here more often. Our visiting friends from Shanghai sneakily picked up the bill before we could, but our meal here would have cost something like 800-1000MOP+ per person. Pricey, but definitely worth the experience and definitely the spot to take your out of town guests to impress!

On a side note, Lucky Peace magazine has a published a dimsum guide in their Chinatown issue with 24 key dishes you'll find in a Cantonese restaurant. It's fun! Have a look.

Created with flickr slideshow.

Jade Dragon
City of Dreams 新壕天地
Estrada do Istmo
Macau, Taipa
Level 2, The Shops at The Boulevard
Tel: +853 8868 2822
11:00am – 3:00pm
6:00pm – 11:00pm